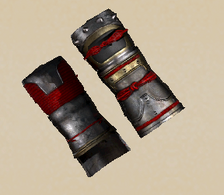 Description
Gauntlets made from forged steel. Fairly heavy, but hold plenty of power.
Blacksmith Cost
Red eye x4
Red clay x2
Deformed bone x2
700 Haku
Shopkeeper Cost
Attributes
Upgrades
Niō Gauntlets
Vajra Gauntlets that Have been diligently worked by a craftsman to provide markedly higher destructive power.
Ad blocker interference detected!
Wikia is a free-to-use site that makes money from advertising. We have a modified experience for viewers using ad blockers

Wikia is not accessible if you've made further modifications. Remove the custom ad blocker rule(s) and the page will load as expected.